Produkty Pitania expands snack line Perfetto and updates package design
— 2015-06-30 —
TM Perfetto is a modern brand for dynamic contemporary people.
Products under the ТМ Perfetto meet the new European standards (ready-to-cook meal) for modern, active, interesting life and communication.
Assortment: lasagna, cheese sticks and snacks, finger food – mini-nuggets and pizza.
All products in the line feature excellent taste, palatable and appetizing look and quick preparation (2-3 min).
These are ideal products in the category of finger food (are eaten with hands) for eating at home - perfect hot and substantial appetizer to beer, wine and beverages; for HoReCa segment or eating at the office (catering).
The idea of creating these products was inspired by Italian gastronomic traditions, because cheese and wine pairing is greatly valued in Italy. Product recipe is based on traditional authentic taste. At the same time these are modern products for contemporary residents of large cities who appreciate time and rhythm of life!
Perfetto – is a brand to this line, and is translated from Italian as "perfect"!
Package design was created through the product positioning. Green was selected to be the primary color that stands for freshness and naturalness.
For customer convenience, packages of each Perfetto line type have labels with product name of corresponding flavor:
yellow – crispy cheese appetizers with succulent taste "Mozzarella cheese sticks" "Cheese balls, breaded", "Mozzarella cheese medallions"
red – chicken fillet "Breast fillet pieces "Mini-nuggets"
orange – lasagna, made according to original Italian recipe: Al Dente pasta, fragrant selected meat, vegetables and cheese filling — "Classic meat lasagna".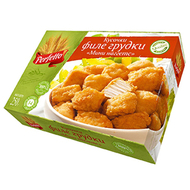 Perfetto – excellent taste for noshing!